Sonographers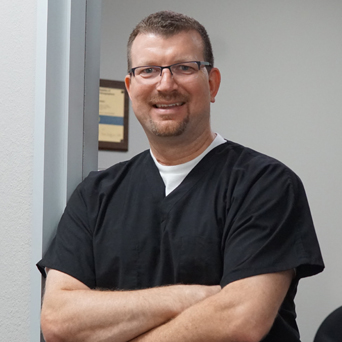 Curtis
Curtis has been a sonographer for over 27 years and has worked with Dr. Rowe and Dr. Ayad since 1996. He has been a Maternal Fetal Medicine sonographer specializing in high-risk obstetrical ultrasounds for 25 years. He served in the United States Air Force where he graduated with high honors in the Air Force Diagnostic Imaging program. He received his training as a sonographer in the United States Air Force at Keesler AFB and The Institute of Ultrasound Diagnostics in Mobile, Alabama. He is certified by ARDMS in Ob/Gyn, and he is also certified in both the NTQR and Fetal Medicine Foundation in the performance of nuchal translucency (NT). He has extensive experience in assisting with invasive ultrasound procedures, genetic screening by ultrasound, and multiple gestation ultrasound. He is a member of the famous Battle Red Wagon Tailgaters and Chaparral Cookers. He loves football, cooking, and traveling. He is married and has 3 children.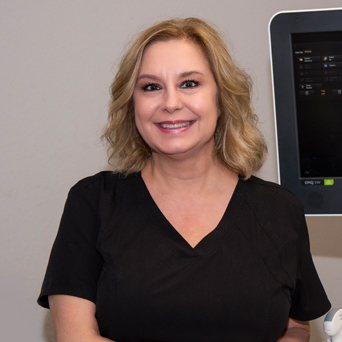 Erika
Erika has been a sonographer for over 28 years. She graduated from Galveston College with an Associate Degree in Applied Science. Erika completed her curriculum in Radiographic Technology at The University of Texas Medical Branch at Galveston in the Division of Radiologic Health Sciences. Erika's study of radiology led her to a career path in sonography. Originally from Louisville, Kentucky, she went on to work at the University of Louisville in a private practice setting working with infertility, Ob/Gyn, and Maternal Fetal Medicine patients. Erika has been registered by the ARDMS since 1996. Erika is a member of the Society of Diagnostic Medical Sonography. She is married and enjoys traveling, spending time with family and friends, and taking care of her fur babies.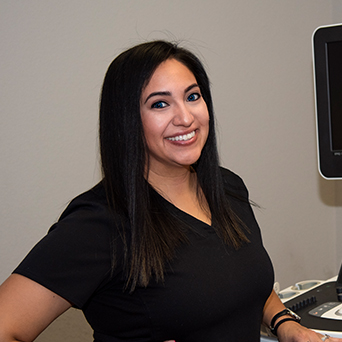 Melanie
Melanie Barrios, RDMS (OB/GYN) (AB), is a registered diagnostic medical sonographer with 7 years of experience. She did her training and received her certification in May of 2014 through Harris Health System School of Diagnostic Medical Imaging. She began her career doing general ultrasound at Ben Taub Hospital. After a year, she was given the opportunity to solely specialize in her passion for Maternal Fetal Medicine with the University of Texas Health Science Center of Houston in September of 2015. She is also certified by the NTQR for Nuchal Translucency as well as CLEAR for Cervical Length screening through Perinatology Foundation. To be able to have a positive impact on patients during an important part of their lives when it comes to starting a family, is one of the most rewarding parts of her profession. She enjoys spending quality time with her husband Julio and 1 year old son Ezekiel as well as hanging out with close family and friends, playing volleyball, and traveling.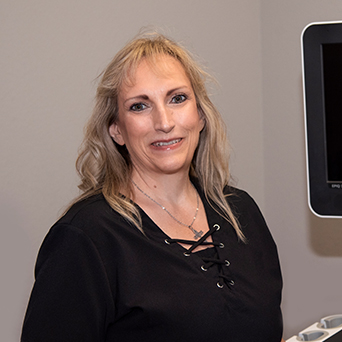 Stephanie
Stephanie has been a sonographer for over 30 years. She began her career in radiologic technology in women's health and transitioned into solely ultrasound in 2001. She has been registered by the American Registry of Diagnostic Medical Sonographers since 1992 and is registered in OB/GYN, Fetal echocardiography, and abdomen. She is also certified by the NTQR for Nuchal Translucency and CLEAR for Cervical Length screening. Stephanie has a passion for women's health, especially for expectant mothers. Her focus has been on Maternal Fetal Medicine since 2016 and joined the amazing team at Maternal Fetal Medicine of South Texas in August, 2021. Stephanie recently earned her Bachelor's degree in Professional Development and Advanced Health Care from Grand Canyon University. She is married and between her and her husband, they have four grown boys. She enjoys doing crafts in her spare time and playing with her very needy fur baby.